Healthy Pop Foods is a Dubai based manufacturer and distributor of snack foods. With just Eight years of our operations today we are the leading participants of biggest exhibitions, as well as the owners of many stalls and kiosks in major malls in UAE. Our products fall into three categories: Healthy Pop, Strawcolate & Hotchips.

Since 2004, Healthy Pop has been dedicated to developing innovative ideas and equipment to cater the best of products available in the global market.

Today, Healthy Pop has more than 90 employees nationwide who are committed to fueling our product lines with sales-generating concessions, as well as specialty food machines and supplies.

From our single 100 sq.ft outlet beginning to our 50 plus various locations, everything we do reflects our dedication and success in holding true to our visions.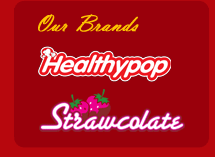 A major reason for the growth of this brand is the company's commitment to producing a product to the highest level of quality. This is evident in every stage. From manufacturing to distribution. Every area is carefully controlled to provide a quality and cost effective commercially accepted product.
We believe in professionalism and therefore the Company always assures to supply the world's best and most hygienic products to our customers.